Barnett's reference manuals, industry compendiums and job aids are designed to provide updates on important new developments in the industry. Following is a complete listing of our products.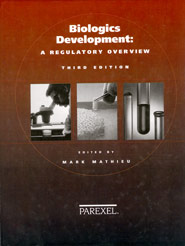 Biologics Development: A Regulatory Overview (2004)
Written by more than a dozen FDA officials and industry experts, Biologics Development: A Regulatory Overview (2004) is the first text to analyze the FDA's regulation of biotech/biologic products following the agency's historic transfer of therapeutic biological products to the Center for Drug Evaluation and Research (CDER). Written by CDER and BER officials and industry experts, this reference offers an expansive examination of the FDA's regulatory of biologic products.
In its third edition, this comprehensive text has become the world's most widely read resource on the FDA's regulation, review, and approval of therapeutic biologics, vaccines, gene/cellular therapies, and other biotech products. The expanded 2004 edition is the first book to fully characterize the new dual-center regulatory system for biological products following the FDA's stunning reassignment of biological products in late 2003. From preclinical testing to post-marketing regulatory requirements and from biological manufacturing to electronic IND/BLA submissions, this text addresses every aspect of the new era of biological/biotech product development and regulation.
Reader Testimonials:
"Authored by FDA and industry officials, Biologics Development: A Regulatory Overview is the first text to provide a detailed analysis of the FDA's regulation of the development process for… biological products. [It] gives special emphasis to the recent wave of organizational, management, and operating initiatives within… CBER… including lot release, user fees, and promotional labeling policies."
RAPS News (on the First Edition)
"A first-rate information source on the biologics approval process! This text provides an up-to-date reference for the expert, and an excellent overview for the novice. More important, it is one of the precious few sources for obtaining the detailed thoughts of current CBER officials."
Gary E. Gamerman, M.S., J.D., Fenwick & West (on the First Edition)