Barnett's reference manuals, industry compendiums and job aids are designed to provide updates on important new developments in the industry. Following is a complete listing of our products.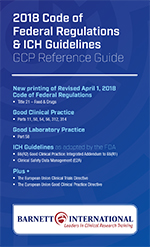 CFR/ICH GCP Reference Guide 2018 - Team 10-Pack
The 2018 CFR/ICH Reference Guide provides the critical information you need to know to stay current with the pharmaceutical industry's codes and regulations.
The compact nature of the guide offers an easy way to keep key regulations right at your fingertips and readily available for quick reference. Updated as of April 1, 2018, regulations included are:
FDA Code of Federal Regulations, Good Clinical Practice Parts 11, 50, 54, 56, 312 & 314
ICH Guidelines Good Clinical Practice (E6 R2) and Clinical Safety Data Management (E2A)
The convenient and easy-to-reference pocket guide is ideal for new hire packets, giveaways, IRBs, regulatory personnel, QA/QC departments, institutions, CROs, sponsors, investigator meetings, research facilities, hospitals conducting clinical research and more!
Recent Updates:
Updates this year include the fully revised International Conference on Harmonization E6 R2 guideline, which has significant implications for industry. Key changes include:
The required implementation of a risk-based quality management plan approach (i.e. risk management/risk-based quality management)
More efficient approaches to clinical trial design, conduct, oversight, recording and reporting while continuing to ensure human subject protection and reliability of trial results
Other requirements that demand that new knowledge, skills and abilities are acquired and implemented
Ensure that you and your teams are aware of these changes!
Extensive updates to the CFRs, specifically to Part 314 – Applications for FDA Approval to Market a New Drug, including:
New and updated definitions
Procedures for submission of 505(b)(2) application requiring investigations for approval of a new indication for, or other change from, a listed drug
Supplements and changes to approved NDAs, waivers, and petitions to request changes from a listed drug
ANDAs: content and format, supplements and other changes to approved ANDAs, and amendments to unapproved ANDAs
Filing, receiving, approval, and refusal of approval of NDA and ANDAs
Details for submitting patent information
Content, format, and clarifications regarding notice of certification of invalidity, unenforceability, or noninfringement of a patent
New drug product exclusivity
Custom and Multiple copy discounts are available. Call 1(800) 856-2556 or email customer.service@barnettinternational.com for custom and bulk orders.
Standard orders of 100+ books are only $12.95 per book!
This book can also be customized with your company logo of 100+ books. Call for details.
4"x7" perfect or spiral bound soft cover pocket guide.