Barnett's reference manuals, industry compendiums and job aids are designed to provide updates on important new developments in the industry. Following is a complete listing of our products.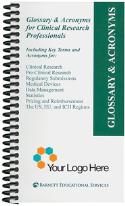 Glossary Acronyms for Clinical Research Professionals - Team 10-Pack
Do you ever wish you had the quickly-evolving terminology of our industry at your fingertips? This easy to use "back-pocket" reference guide helps you to navigate more than 900 key terms and over 500 acronyms that are commonly used in clinical research. This all-new edition has been expanded and includes terms and acronyms for:
Clinical Research
Pre-Clinical Research
Regulatory Submissions
Medical Devices
Data Management
Statistics
Pricing and Reimbursement
The US, EU, and ICH Regions
The 2009 edition is almost twice as long as the previous edition, and includes the terminology you need to know in today's global clinical and regulatory environment. Glossary & Acronyms is an excellent companion to our CFR Reference Guides (for drugs or devices), GCP Question & Answer Reference Guide, and State-by-State Clinical Trial Requirements Reference Guide. This pocket reference guide is ideal for new hire packets, site and management organizations, CRAs, CRCs, sponsors, IRBs, regulatory personnel, QA/QC, research facilities, universities, hospitals, institutions, and more! Plus, the guides may be customized with your company logo for orders of 100+ books. Great for entire departments, investigator meetings, or tradeshow giveaways! Spiral-Bound Softcover.
For bulk and/or custom cover orders, please call toll-free 1-800-856-2556.