Barnett's reference manuals, industry compendiums and job aids are designed to provide updates on important new developments in the industry. Following is a complete listing of our products.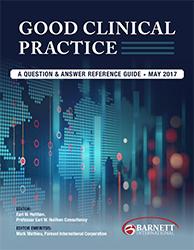 Good Clinical Practice: A Question & Answer Reference Guide 2017 (Electronic)
This industry-leading GCP reference guide answers over 1,000 of the most common and difficult questions regarding the interpretation and implementation of U.S. and international GCP standards for drugs, biologics, and medical device clinical trials. The completely updated and expanded 2017 guide includes:
Updates focused specifically on the revision of ICH GCP (E6 R2) and the impact on clinical trial processes and systems.
Over 25 contributing authors with targeted expertise in QA, Monitoring, Compliance, Site Management, TMF, Data Management and many other core GCP areas.
Dozens of new Q&As, including in-depth analysis from distinguished international GCP expectations, including risk-based monitoring, electronic informed consents, eSource, TMF readiness and others.
Newly-added chapters on clinical data management and the TMF.
Completely updated sections featuring all the latest data and trends on the FDA and EMA's clinical trial compliance inspections, inspectional
findings, and common areas of GCP noncompliance.
Updates to reflect the very latest FDA guidances, regulations, comments, and developments for both drugs and devices.
Updates to information on Australia, Canada, China, India, Israel, Latin America, New Zealand, and Russia.
Insights into FDA's focus on sponsors' quality systems and risk-based approaches, especially when GCP compliance issues are discovered at the clinical study site.
Publication Code: GCP17.................................... Price: $75.95
Electronic Version: GCP17E................................. Price: $65.95