Barnett's reference manuals, industry compendiums and job aids are designed to provide updates on important new developments in the industry. Following is a complete listing of our products.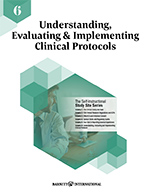 Study Site Training Series (2018): Volume 6: Understanding, Evaluating, and Implementing Clinical Protocols
This volume is designed to assist teams in protocol implementation. Included are the features of protocols, evaluation strategies, implementation assessment, as well as basic protocol design and writing.