Barnett's reference manuals, industry compendiums and job aids are designed to provide updates on important new developments in the industry. Following is a complete listing of our products.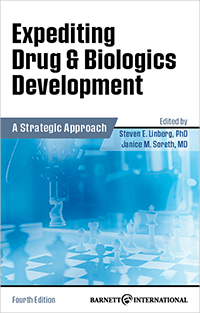 Expediting Drug & Biologics Development: A Strategic Approach 2021
From the initial planning to the NDA/BLA review process, Expediting Drug and Biologics Development shows you how to use reverse-engineering techniques to drive and improve each aspect of a drug and biologic product development program's design and implementation. Written by dozens of leading experts, this book is a real-world "doer's" guide. It provides templates, forms, and tools to assist those "in the trenches" of new drug and biologic development today.
With this book, you will learn how to:
Make planning the central part of all aspects of drug and biologics development.

Establish a Target Product Profile (TPP) to critically evaluate the needs of the evolving package insert and eventual marketing application before getting deeply into clinical trials.

Understand that the clinical development program dictates much of the nonclinical development program, and that both dictate the chemistry, manufacturing and controls development program.

Involve thoughtful ethics in the planning and execution of clinical research.

Leverage standardization to drive and expedite the entire development process, from the development of clinical trial protocols to the development of clinical data presentations.

Critically assess the needs of a final study report before developing the clinical protocol.

Use the data identified in the analysis plan and gathered by various data collection tools to dictate the content of the procedures section of the clinical protocol.

The role of monitoring as one part of a multi-faceted approach to evaluating safety in a clinical trial.

Anticipate the demands of the regulatory authority review process, the audits that will support data integrity, and the mechanics of Advisory Committee reviews.
September 2021, 654 pp., ISBN# 978-0-9963462-9-0, $195.00
Edited by Steven E. Linberg, Ph.D., and Janice M. Soreth, M.D.