Barnett's reference manuals, industry compendiums and job aids are designed to provide updates on important new developments in the industry. Following is a complete listing of our products.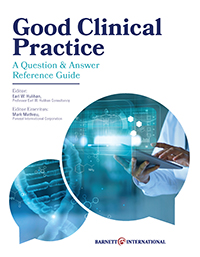 Good Clinical Practice: A Question & Answer Reference Guide (Electronic)
This industry-leading GCP reference guide answers over 1,000 of the most common and difficult questions regarding the interpretation and implementation of U.S. and international GCP standards for drugs, biologics, and medical device clinical trials. The completely updated and expanded guide includes:
Continued updates focused on the impact of changes to ICH GCP E6 R2, enforcement of the revisions and its impact on clinical trial processes and systems, including Quality-by-Design and Risk-Based Quality Management (QM) expectations
Changes resulting from the implementation of the Common Rule including changes in informed consent requirements, the impact of Annex 13 on investigational product management
Impact of GDPR on eTMF management and common TMF regulatory findings
Dozens of new Q&As including changes resulting from COVID-19
New questions focused specifically on how Risk-based Quality Management (Section 5 of the Addendum) impacts monitoring activities
Updates on the EU's General Data Protection Regulation (GDPR) regulation and the MHRA 2018 Data Integrity Guidance
Coverage on updates to the "Common Rule" and NIH updates for clinical trials research
Questions focused specifically on how Risk-Based Quality Management (Section 5 of the Addendum) impacts monitoring activities
Updates to state- and country-specific regulations including the U.S., Brazil, Argentina, Peru, India and many others
Over 25 contributing authors with targeted expertise in QA, Monitoring, Compliance, Site Management, the Trial Master File, Data Management and many other core clinical research areas
Extensive graphs and charts on the latest inspection trends and findings!