Barnett's reference manuals, industry compendiums and job aids are designed to provide updates on important new developments in the industry. Following is a complete listing of our products.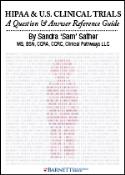 HIPAA and U.S. Clinical Trials: A Question & Answer Reference Guide 2014
This must-have reference guide is designed for persons or organizations that sponsor, conduct, or oversee clinical trials that depend on use and disclosure of research subjects' past, present, or future health information as part of the good clinical practices (GCPs) to support various stakeholders' roles. This guide is essential to those clinical trial stakeholders, including sponsors, contract research organizations (CROs), investigators or delegates, institutional review boards (IRBs), and research subjects.
The 2014 HIPAA and U.S. Clinical Trials: Question & Answer Reference Guide includes the regulatory changes and updates from 2003 to present. Some of the key items covered include:
Common misunderstandings of the requirements of the HIPAA Privacy Rule regarding clinical trials

Monitoring electronic health records (EHRs) under HIPAA

Defining covered entities and hybrid entities

Authorizations and Clinical Trial Agreements mapping to ensure access to pertinent data

The use of Review Preparatory to Research to support subject enrollment

Changes to the requirements of Business Associates

Compound and future HIPAA Authorizations
This guide provides answers to tough questions about how to meet GCP and HIPAA requirements related to subject confidentiality and access to subject study data. The guide is ideal for setting clear expectations and improving study start-up, updating policy, preparing for audits, negotiating trial agreements, and much more!