Barnett's reference manuals, industry compendiums and job aids are designed to provide updates on important new developments in the industry. Following is a complete listing of our products.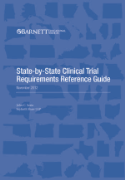 State by State Clinical Trial Requirements (Print)
Although many clinical trial sponsors and investigators focus primarily on FDA regulations related to the conduct and design of clinical trials, their failure to comply with state laws and regulations may expose sponsors, investigators, IRBs, Institutions, or individuals to significant liability risks and call into question the potential integrity of clinical data. Today's US-based clinical trials must meet not just federal requirements, but an increasingly complex array of state specific requirements as well. In fact, many areas critical and foundational to clinical studies – age of consent, capacity to consent, notification of state agencies, experimental drug dispensing requirements, genetic testing, and legal representatives, among many others – are driven by state, and not federal, laws. How do you monitor the requirements of all 50 states?
State-by-State Clinical Trial Requirements Reference Guide 2012 provides totally updated and expanded profiles of the clinical trial standards in all 50 states. This newly updated resource breaks down each state's requirements in more than a dozen practical areas critical to your clinical research programs, including:
State statutory structures for clinical trials
Required notifications to state officials/offices
Legal representative standards
Age of consent/Capacity to consent
Drug dispensing/administration requirements
Informed consent, IRB, and clinical protocol requirements
State licensing authorities (medical, nursing, pharmacy)
Special state rules for cancer research
State HIV testing rules
State requirements for genetic testing
State-specific benefits afforded clinical research
Bulk Order Discounts Available
Customizable with Your Company Logo
Great for New Hires and Sites!

To purchase State-by-State Clinical Trial Requirements Reference Guide 2012
Call: 1-800-856-2556
Email: customer.service@barnettinternational.com
Visit the Publications section on www.barnettinternational.com
Also Available in Electronic Format!