Barnett's reference manuals, industry compendiums and job aids are designed to provide updates on important new developments in the industry. Following is a complete listing of our products.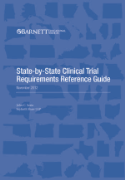 State-by-State Clinical Trial Requirements Reference Guide 2012 (electronic)
Although many clinical trial sponsors and investigators focus primarily on FDA regulations related to the conduct and design of clinical trials, their failure to comply with state laws and regulations may expose sponsors, investigators, IRBs, Institutions, or individuals to significant liability risks and call into question the potential integrity of clinical data. Today's US-based clinical trials must meet not just federal requirements, but an increasingly complex array of statespecific requirements as well. In fact, many areas critical and foundational to clinical studies – age of consent, capacity to consent, notification of state agencies, experimental drug dispensing requirements, genetic testing, and legal representatives, among many others – are driven by state, and not federal, laws. How do you monitor the requirements of all 50 states?
State-by-State Clinical Trial Requirements Reference Guide 2012 provides totally updated and expanded profiles of the clinical trial standards in all 50 states. This newly updated resource breaks down each state's requirements in more than a dozen practical areas critical to your clinical research programs, including:
State statutory structures for clinical trials
Required notifications to state officials/offices
Legal representative standards
Age of consent/Capacity to consent
Drug dispensing/administration requirements
Informed consent, IRB, and clinical protocol requirements
State licensing authorities (medical, nursing, pharmacy)
Special state rules for cancer research
State HIV testing rules
State requirements for genetic testing
State-specific benefits afforded clinical research
Features of the electronic version include:
Searchable by keyword, with multiple search parameters and page preview.
Notes function for personalized documentation.
Active links to external web sites.
Internal links from Tables of Contents to specific sections.
Accessible any time on any internet browser (Internet Explorer, Mozilla Firefox, Safari).
Please read these important technical specifications carefully:
An internet connection, user name, and password are required, and will be established during the ordering process.
Your individual purchase includes access to one computer. Once you access the eState-by-State from a computer, you cannot view it on any other computer. If you would like to access the eState-by-State from multiple computers, you will need to purchase additional copies.
The eState-by-State is not available in PDF format.
Printing, copying, and pasting is not permitted.
The file cannot be emailed or shared.
The content of the book is not updated. You will be notified when a new edition is available, which will require a new purchase.
Information regarding bulk access purchases:
Bulk purchases may be hard copies only, electronic copies only, or a combination of hard copies and electronic copies.
For multi-user or bulk purchases, the user name and password will be the same for all users.
It is the purchaser's responsibility to distribute and manage group accesses. The purchaser must advise users that they are not to access the e-book on more than one computer, unless the purchaser has purchased enough accesses to allow this.
Once the purchased number of bulk accesses has been reached, no additional users will be able to access the eState-by-State. Additional accesses will need to be purchased. It is important that the purchaser advises users that every computer that they access the eState-by-State on will be counted as an access.
eState-by-State is not available for access through corporate web sites or intranets. Discount rates are available on bulk purchases.
Customizable with Your Company Logo
Great for New Hires and Sites!

To purchase State-by-State Clinical Trial Requirements Reference Guide 2012
Call: 1-800-856-2556
Email: customer.service@barnettinternational.com
Visit the Publications section on www.barnettinternational.com